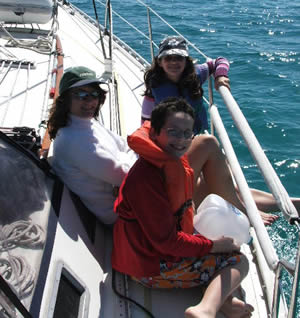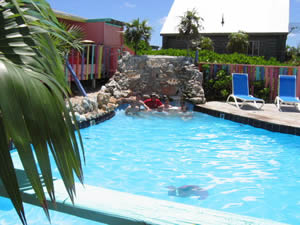 Our top priority is to ensure you have a safe, action packed 'Learn to Sail' vacation. As the perfect 'tropical get-away' in one of the most popular sailing destinations around the world, our family programs let you have the trip of a lifetime while relaxing in the island culture and unique atmosphere of the Bahamas!
Enjoy learning to sail with the instruction and guidance of your own professional Captain who will help you every step of the way. You can explore life beneath the waves and include Scuba Diving if you're already certified or try a Discover Scuba course if you don't have any experience. You could also venture into deep water for some exhilarating Deep Sea Fishing. It's your trip so you decide what to do each day, there's always time to relax and take it easy!
Great food, family fun, an educational family adventure providing endless excitement. Most family groups have no sailing experience - let us know if you'd like to speak with someone who sailed with us previously.
What You Do
We'll custom-build a family 'Learn to Sail' vacation that's just perfect for you! Whatever option you choose, learning to sail is an educational experience that encourages young people to get the best out of themselves. It provides a unique sense of achievement, builds independence and responsibility as well as improving teamwork and communication skills.
We provide a great range of fresh produce onboard each sailboat and tasty menu options; however, there are lots of great restaurants on the islands if you prefer to dine onshore. If you've opted to rent accommodations on shore then you can still enjoy your meals onboard, just let us know what you prefer.
If you're living onboard, your Captain will normally offer you the option to stay at an island marina overnight on the 2nd and 4th nights, and also the 6th night if you're sailing with us for 6 days. Remember, you'll have the chance to explore a different island every day.
To view the sailing area click on the interactive satellite map link on the Itinerary page.
Your Trip Options
We offer your family or group the choice of learning to sail with accommodations on land or learning to sail while living onboard a sailboat. We also have two options for your length of stay with us, 4-days or 6-days. Our 4-day trips commence on a Saturday and 6-day trips commence on a Sunday.
If you're based on shore, we have a wonderful selection of accommodations for every budget. You can stay in the main town of Marsh Harbour or on the out islands of Elbow Cay or Gt. Guana Cay.
We also offer you the opportunity to learn to sail in a dedicated sailtraining syllabus, call us to find out more.
If you decide to live onboard your sailboat, your 6-day trip will take you on an awesome voyage from island to island in the Sea of Abaco. Each evening you'll either anchor in a different harbour where you can sleep beneath the stars or you'll enjoy full marina facilities, it's up to you.
What You Learn
Our trips provide your family with informal instruction and guidance in every aspect of sailing. Your Captain is there to help you make the most of your time onboard so if you want to learn about anything else, just ask.
Trip Timing and Duration
If you're living onboard you'll return to dock on the day before you leave and spend your last night onboard at the marina. You can board your sailboat any time after 10:00hrs and your trip will end 10:00hrs on your final day. So if you have opted for a 4-day trip commencing at 10:00hrs on Saturday, your trip ends on Wednesday at 10:00hrs; your 6-day trip commences on Sunday and ends the next Saturday.
Your trip will take place in a remote location, in a tropical foreign country so make certain all participants in your group have valid passports and adequate insurance in the event of a medical emergency or in case your travel arrangements are disrupted.
Please Note: If you're planning a trip with younger children, insure they can swim competently without a buoyancy/flotation aid, otherwise they'll have to wear one throughout the trip!
Cost
We have years of experience tailoring trips to the requirements of each unique family, so if you'd prefer to stay on shore, contact us to discuss your trip options. We'll provide you with several accommodation options and costs to suit your budget and the needs of your family or group.
Day Sailing
If you're living in accommodations on land the cost for our trips include snacks, lunch, snorkel equipment and sail training.
4-days Sailing: $600 per person
6-days Sailing: $700 per person
Live aboard
If you're living onboard both the 4-night and 6-night prices include all food onboard, snorkel equipment and sail training.
4-night Family Program: $700 per person
6-night Family Program: $900 per person
If you want to sail as a couple there is a surcharge of $500 per person, and if you wish to sail as a group of three there is a surcharge of $300 per person, for our 4 and 6-night Family Programs.
------------------------------------------------------------------
Minimum crew size is 4 and our maximum group capacity is 5, although we have many larger groups who sail together on several sailboats.
Contact us to check on availability of your preferred trip dates and excursion options so we can tailor a trip just for you!