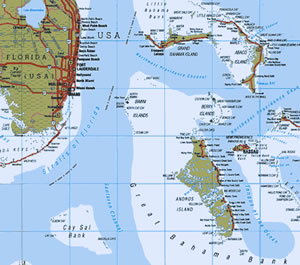 The Abacos
The sheltered Sea of Abaco lies within the barrier reef system of the Northern Bahamas, within easy reach of mainland USA, lying less than 160miles east of Florida. In less than one hour you could find yourself aboard a sailboat preparing to embark on your
voyage of discovery
throughout the Abaco Islands.
This area is world famous for snorkeling, diving, fishing, endless beaches, and quaint, scenic settlements - visitors return year after year because of the warmth, friendliness and genuine hospitality.
Most of all the Sea of Abaco is popular for it's outstanding sailing opportunities. Situated within the protection of the 3rd largest barrier reef in the northern hemisphere the sailing is safe for your family or youth group yet it's more than exciting enough for advanced sailing. The geography of the region offers many different island destinations. You can sail to a different island each day but if you prefer you can anchor in a sleepy bay instead of going into a marina or settlement harbour. One day you can find yourself on a deserted island walking along a perfect white beach and the next day you can be at a family beach bar sunbathing beside a pool.
Climate
The
climate
of the Bahamas is directly affected by weather patterns across the United States and the Gulf Stream making it perfect for year-round sailing. The average temperature ranges from 80-90 degrees Fahrenheit in the summer, to 70-80 degrees Fahrenheit in the winter. Nighttime temperatures are generally cooler by 5-7 degrees. Sea surface temperatures vary between 70F in February and 86F in August.
During the summer season South Easterly trade winds generally provide a constant and predictable 10-15 knots of wind. So, expect daily sunshine, high humidity with occasional, brief and scattered showers.
http://www.abacomapbahamas.com/gmaps/abaco-gmap-fullsize.htm