Discover the sights and sounds of the Caribbean and its natural and cultural beauty by sailing in the Sea Of Abaco. You'll visit some of the most memorable, picturesque and friendly islands in the Northern Bahamas. Each day you can plan your itinerary with your Captain and on the pages in this section you can find out more about each island.
The sailing area lies within the protection of the third largest barrier reef in the Northern Hemisphere. Behind the reef lies a chain of barrier islands, known locally as 'cays'. Each cay has its own stunning white beaches, swaying palm trees and unique charm. The majority of cays are uninhabited so there are countless natural areas to explore as well as numerous vibrant island settlements.
On average, the depth in the Sea of Abaco is 10-12ft but what you'll remember most about your trip is the incredible spectrum of brilliant turquoise and aquamarine colors. The water is crystal clear so you can usually see straight to the bottom wherever you are.
Maps
The chart below shows all the major islands you may wish to incorporate into your trip. Also, check out the satellite link below the chart!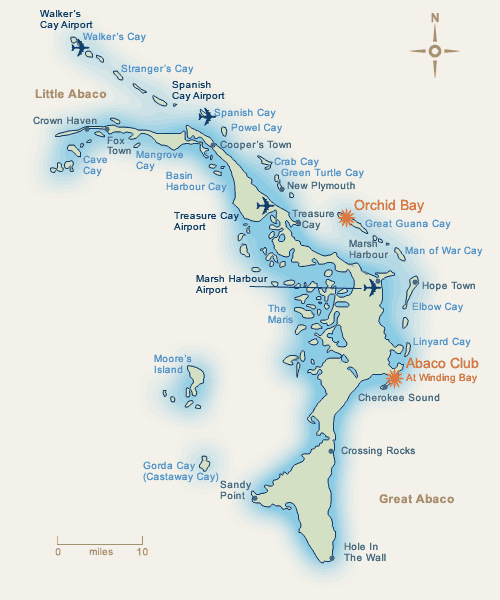 A Satellite View
The link below will take you to an interactive satellite map showing our sailing area. Click the link then zoom in or out to learn more about the Sea of Abaco and surrounding islands.
http://www.abacomapbahamas.com/gmaps/abaco-gmap-fullsize.htm