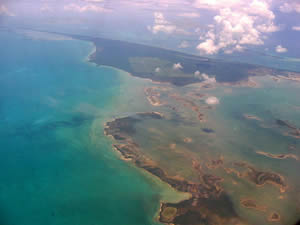 Getting to Marsh Harbour, Bahamas is easy and fun!!!
There are many flight options to Marsh Harbour International Airport and numerous flights each day from Miami, Ft. Lauderdale and West Palm Beach. You could also fly to Nassau and from there to Marsh Harbour with a smaller company like Sky Bahamas or Western Air, it may work out less expensive than traveling through Florida.
The most popular larger airlines flying into Marsh Harbour are Continental, American Airlines and Bahamasair.
Several reliable smaller airlines make daily flights from Florida to Marsh Harbour, such as Bimini Island Air and Twin Air. Prices vary considerably and also ask for a discount - this may be possible if you're traveling in a large group.
Your short flight from Florida should only take about 45 minutes. Getting through Customs and Immigration in Marsh Harbour should not take longer than 10-15minutes.
Please note: All visitors to the Bahamas must have a valid passport! It's a good idea for someone in your group to volunteer to look after 'all passports'. Losing a passport is best avoided, is hugely inconvenient and the authorities here and back home cannot always provide immediate help.